Eurovisco participated at the OARSI 2017 World Congress which took place from the 27th to the 30th of April 2017 in Las Vegas. The scientific work of the group related to retreatment with viscosupplementation has been presented in a poster during this congress.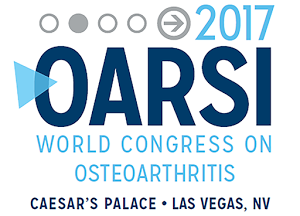 Re-treatment with viscosupplementation in patients with knee OA: suggestions of the EUROSVICO working group following the 2nd edition of the LABRHA European Board on Viscosupplementation
The abstract DECISION ALGORITHMS FOR THE RE-TREATMENT WITH VISCOSUPPLEMENTATION IN PATIENTS SUFFERING FROM KNEE OSTEOARTHRITIS, has been accepted as a poster presentation to the 2017 World Congress on Osteoarthritis.
On September 17-18, 2015, LABRHA organized the 2nd Edition of the European Board on Viscosupplementation in Lyon (France) at which our ten experts from Belgium, France, Germany, Italy, Spain and UK participated. The task force looked during this meeting at issues regarding re-treatment with Viscosupplementation (VS) in knee osteoarthritis. An attempt was made to reach consensus on 88 issues within 18 statements, among which:
How can we define « success » and « failure » of the treatment?
When and how re-treat patients successfully treated by a previous VS?
When and how to re-treat patients in whom VS previously failed?
What management options can be suggested when the patient experienced moderate adverse reactions following a previous VS?
What is the role of serum and urine biomarkers in re-treatment with HA?
At the end of the meeting, two decisions algorithms have been drawn up to help the physicians decide what to do in their daily practice in the following two cases:
in case of failure of a previous VS
in case VS was previously successful
Click on the poster below to read: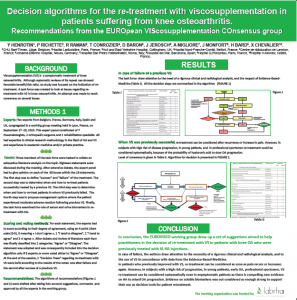 Please note the paper « Decision Algorithms for the Retreatment with Viscosupplementation in Patients Suffering from Knee Osteoarthritis » has been published in Cartilage in February 2017 and is available following this link: